Contact Us:Mrs. Ma
Tel:0579-87402699 87404799
Phone:13735700599
Email:321300
Address:Gushan Town, Yongkang, Jinhua, Zhejiang Ya Creek Road, No. 68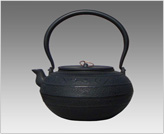 Yongkang Zhengli Ironware Factory produces all kinds of cast iron teapots.


We warmly welcome new and old customers from all walks of life to contact us for future business relationships and achieving mutual success!

Mountain forest through the sand filter, including trace minerals and few chloride, sweet water, tea is the most ideal water. And adults need every day 0.8 ~ 1.5 mg of iron, serious lack of iron will affect intelligence development, with iron pot of boiled water can release tiny amounts of ferrous iron ion and adsorption of chloride ion in the water, and the tea tannic acid, theophylline and role, and be absorbed by human body and use, is fully staffed.